Prof. Dr. Paul Knochel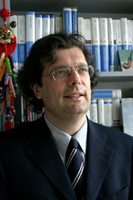 Butenandtstr. 5–13
81377 Munich
Germany
Tel: +49 (0) 89 / 2180-77681
Fax: +49 (0) 89 / 2180-77680
Email: knoch@cup.uni-muenchen.de
Web: www.knochel.cup.uni-muenchen.de/
Research themes
Projekt B02
Kinetische Untersuchungen zu regioselektiven und stereoselektiven Metallierungen von funktionalisierten organischen Verbindungen in vitro und unter Verwendung von flow-chemistry
Mittels eines I/Li-Austausches werden wir stereoselektiv polyfunktionelle sekundäre Alkyllithium-Verbindungen herstellen und ihre konfigurationelle Stabilität (Kinetik der Epimerisierung) bestimmen. Die Stereoselektivität von Ummetallierungen zu Mg-, Zn- und Cu-Organylen (Retention oder Inversion) wird untersucht. In einem zweiten Teil soll die Kinetik neuer Metallierungen ungesättigter Substrate behandelt werden. In diesen Metallierungen wird das Substrat gleichzeitig von einer Lewis-Säure aktiviert und durch eine sterisch-gehinderte Base deprotoniert. Diese Methodik soll es erlauben, DANN-Bausteine und elektronenarme Heterozyklen zu metallieren und zu funktionalisieren. In einem dritten Teil soll die Kinetik von komplexen Metallierungen sowie stereoselektiven Lithierungen unter der Verwendung von kontinuierlichen Durchflussmethoden untersucht werden. Zusätzlich sollen metallorganische Additionsreaktionen von metallorganischen Verbindungen an Carbonyl-Derivaten durch IR-Bestrahlung katalysiert werden.
Project B02
Kinetic investigations on regioselective and stereoselective metalations of functionalized organic compounds in vitro and by using flow-chemistry
A I/Li-exchange will allow us to generate stereoselectively polyfunctional secondary alkyllithiums. We will study their configurational stability (kinetic of epimerization) as well as the stereoselectivity of transmetalation (to Mg-, Zn- or Cu-organometallics). In a second part we will investigate the kinetic of new metalations of unsaturated substrates using simultaneously a Lewis-acid and a sterically hindered base. This methodology will allow the selective metalation of DNA-building blocks and electron-deficient heterocycles and their selective functionalization. In a third part we will perform metalations of complex substrates and generate stereoselectively secondary alkyllithiums using a flow-methodology (in contrast to the usual batch-procedure). Additionally we will perform addition-reactions of organometallics to carbonyl-derivatives activated by an IR-laser irradiation.