Prof. Dr. Herbert Mayr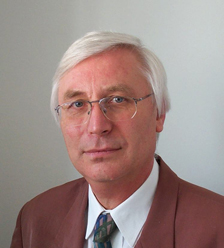 Butenandtstr. 5–13
81377 Munich
Germany
Tel: +49 (0) 89 / 2180-77719
Fax: +49 (0) 89 / 2180-77717
Email: Herbert.Mayr@cup.uni-muenchen.de
Web: www.cup.uni-muenchen.de/oc/mayr/index.html
Research themes
Projekt B01
Konzertiertheit bei Organischen Reaktionen
Die von uns bestimmten Nucleophilie- und Elektrophilie-Parameter N bzw. E wurden bisher ausschließlich auf Reaktionen angewandt, bei denen im geschwindigkeitsbestimmenden Schritt eine neue Bindung gebildet wird. Das Einsatzspektrum für N und E soll nun auf komplexere Reaktionen ausgeweitet werden, wobei wir unter dem Leitmotiv Konzertiertheit (Kopplung "primitiver Vorgänge") den Wechsel von stufenweisen zu konzertierten Cycloadditionen und En-Reaktionen, den Übergang von SN1- zu SN2-Reaktionen sowie den Wechsel von polaren (konzertierte Elektronen-/Atomkern-Bewegungen) zu SET-Prozessen (Elektronen eilen den Kernen voraus) studieren werden.
Project B01
Concertedness in organic reactions
Up to now, the nucleophilicity (N) and electrophilicity parameters (E), that were determined in our labs, were applied for reactions in which only one new bond is formed in the rate-determining step. The portfolio of applications for N and E will now be expanded to more complex reactions under the guiding principle of concertedness (coupling of "primitive changes"). The intended studies will comprise the change from stepwise to concerted cycloadditions and ene reactions, the transition from SN1 to SN2 reactions as well as the change from polar (concerted movement of electrons and nuclei) to SET processes, in which the electrons move faster than the nuclei.